Skip to content
Skip to navigation menu
Create well-being, beyond safety
IDEC celebrated its 75th anniversary in November 2020.
Since our founding as "Izumi Shokai" in 1945, as a leading company of HMI (Human-Machine Interface), we have provided a variety of products and services by integrating our core technologies into products to respond to changing customer needs. As a company that develops and provides the products that "protect the lives of people", we also have promoted safety and ANSHIN*1, aiming to create a safe and comfortable environment in a global community. We are proactively dedicating ourselves to promote the well-being*2 of all people both inside and outside the company.
*1 ANSHIN: a sense of trust and assurance without any fear or stress
*2 Well-being is a concept that individuals are ensured of their rights and self-realization and are in good physical, mental, and social condition.
"The IDEC WAY", our corporate vision newly established in 2019, advocates "Pioneer the new norm for a safer and sustainable world." This vision expresses our determination to become a pioneer of tomorrow's new standards through our role in building the future of manufacturing and its new potential, and to realize a safer, sustainable society that brings happiness and ANSHIN to all people.
IDEC Group strives to realize a society in which everyone can live healthily, happily, and vigorously.
We are working to improve the well-being of our employees by addressing life-work balance and health management through the enhancement of welfare facilities such as a cafeteria and a sports gym, increasing the rate of employees taking various types of leave, and actively promoting measures to maintain and improve their health.
IDEC Group aims to become a company that pursuits and realizes the world's highest level of safety, ANSHIN and well-being not only for our employees but for a society as a whole by providing a variety of products that ensures safety and ANSHIN.



---



IDEC's Goal for Well-being
IDEC Group proposes initiatives to make various workplaces in the world more rewarding and meaningful from four key aspects; Technology, Human, Standards, and Management.
In order to improve the well-being of workers, it is important not only to supply high-performance, easy-to-use, and stable quality products but also to educate human resources, comply with rules such as standards and norms, and have management committed to the well-being. IDEC has conducted a holistic approach from the four aspects mentioned above to realize safety, health, and well-being in worldwide workplaces. We would like to introduce the summary as follow.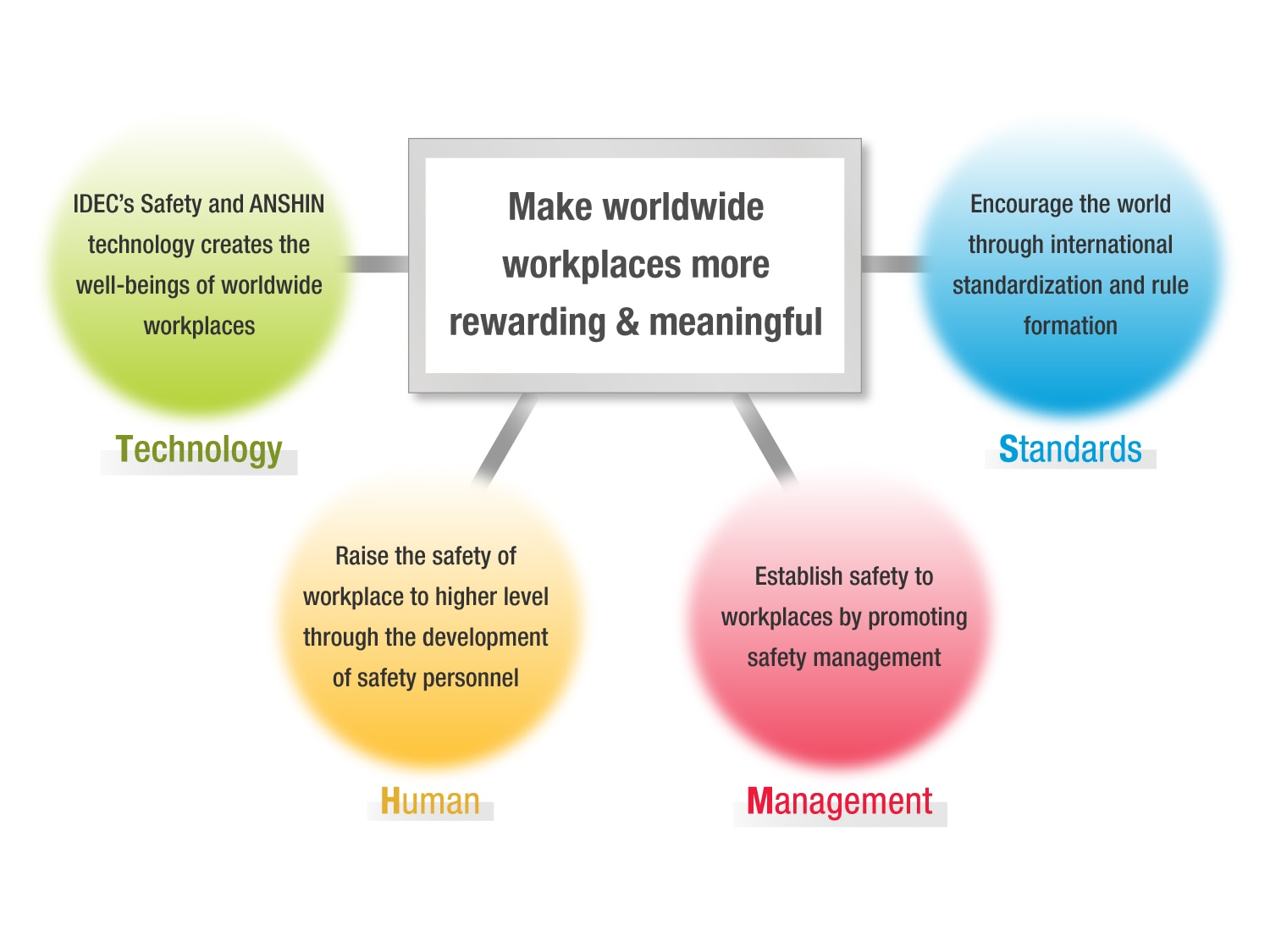 ---



(Technology)
IDEC's Safety and ANSHIN technologies create the well-being of worldwide workplaces
Creating an optimum environment for humans and machines improves well-being of working people

Since the founding, as a company that develops and provides the products for protecting the lives of people and innovating work in an efficient and rational manner, IDEC has promoted safety and ANSHIN, aiming to create a safe and comfortable environment in the global community. We are proactively dedicating ourselves to promote the well-being of all people both inside and outside the company.
Demonstration experiment with in-company facilities incorporating safety and ANSHIN technologies
We introduce equipment throughout the company built with state-of-the-art technology to ensure both safety and productivity at manufacturing sites.
Offer safety and ANSHIN solutions

IDEC offers you the consulting service and the system building of collaborative safety/safety2.0 for realizing more pleasant working environment, safety, health and well-being.



---



(Human)
Raise the safety of workplace to higher level through the development of safety personnel
Enhanced safety management in personnel development (Safety Officer)
For realizing a safe work environment, the understanding by the management is required. The safety officer is a personnel qualification system to certify the possession and understanding of the knowledge on safety. At IDEC, not only the management acquires the certification, but also we promote to raise the awareness of its importance among customers and other stakeholders.
Enhanced safety technology in personnel development (Safety Assessor)
IDEC aspires to become a company that pursues and achieves safety, ANSHIN, and well-being unrivalled in the world. In order to contribute from a technological aspect, all employees learn about safety regardless of their profession, and each employee challenges to acquire safety assessor qualification that certifies the knowledge and ability about machinery safety based on the international safety standards.
Enhanced safety in personnel development at manufacturing sites
IDEC continues to take a proactive approach to the education and the qualification system necessary for employees at manufacturing sites. Each employee is actively engaged in improving skills and acquiring qualifications.



---



(Management)
Establish safety to workplaces by promoting safety management
Establish and enhance safety and health management

IDEC takes the initiative in acquiring the certification of ISO 45001, the international standard for occupational health and safety management systems (OHSMS). In March 2019, Takino factory, one of our major factories, acquired the ISO 45001 certification by Japan Industrial Safety & Health Association (JISHA), which is the first certification in Japan's electrical machinery industry. By March, 2021, four major factories in Japan have acquired the ISO45001 certification. In 2025, OHSMS will be expanded to all the factories in Japan and three sites overseas to ensure the safety, health and well-being of our employees.
Promote Vision Zero Activity, Seven Golden Rules
Vision Zero is a campaign advocated by the International Social Security Association (ISSA), an umbrella organization of the International Labor Organization (ILO), aiming to achieve safety, health and well-being at workplaces. The campaign is based on the belief that all the accidents, injuries, and diseases in workplaces have causes, and they can be prevented by strong commitment by leaders*. IDEC is inspired by Vision Zero approach, and not only implementing its own activities but also raising awareness among its stakeholders.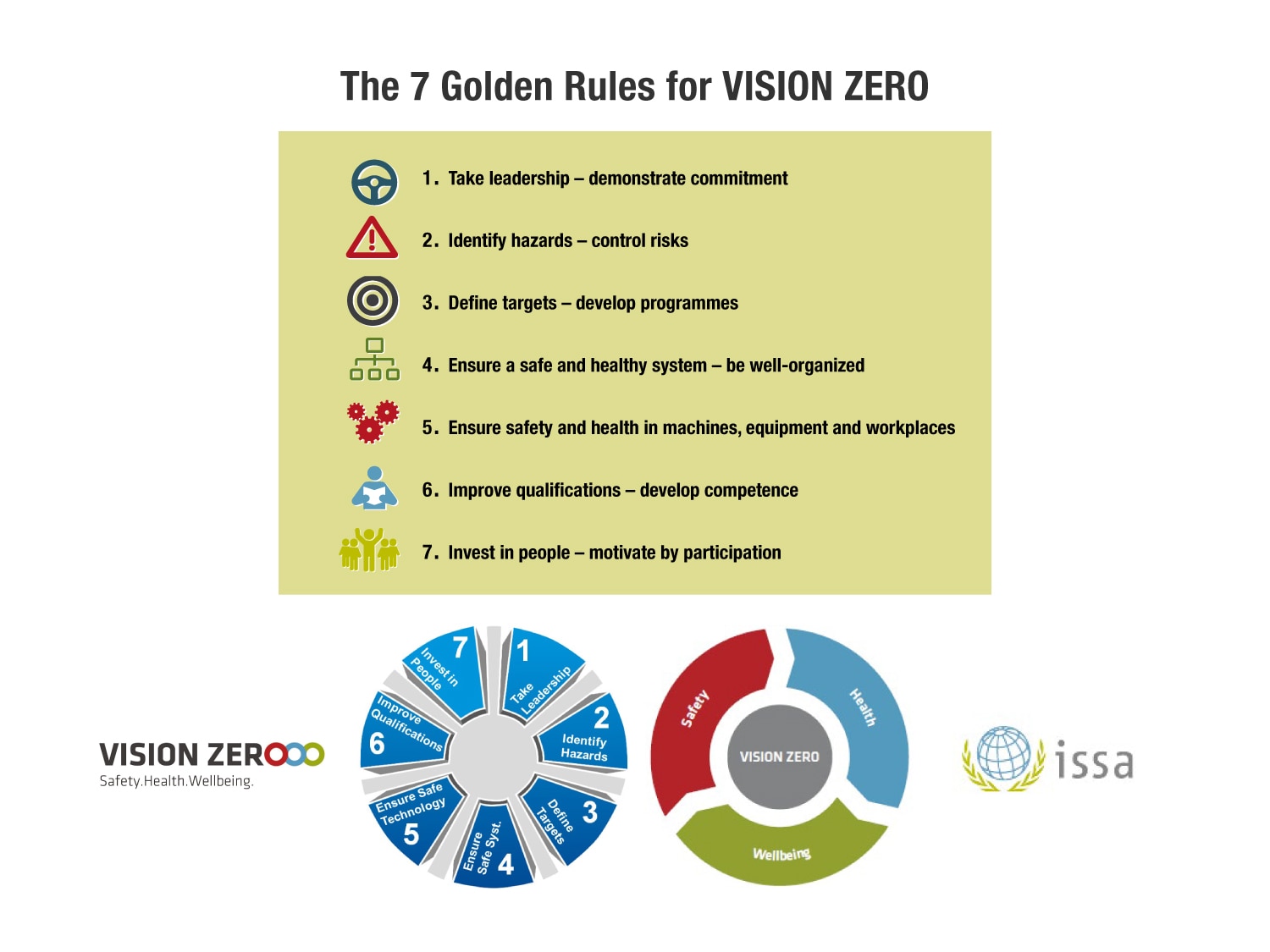 ---



(Standards)
Encourage the world through international standardization and rule formation
IEC standardization (personnel qualification, collaborative safety)
We participate in international standardization activities, and contribute by offering an industry-leading proposal as well as creating the standards for personnel qualification and collaborative safety.
Publish papers
The advanced/cutting-edge technologies developed by IDEC and its applied products and specific applications are presented in the relevant academia, and we make proposals for a better societal creation, leading opportunities for further innovation.
Seminars and video distribution

We disseminate information about our products, and provide easy to understand exposition on international standards through various media.



---



For realizing safety, health, and well-being in workplaces worldwide
IDEC Group pursues the world-class safety, ANSHIN, and well-being, and will help to establish more rewarding and meaningful work environment. We will continue to show the well-being of people working at IDEC in our practice, and share the know-how for improving well-being with a society, placing importance on this circulation of activities.