Skip to content
Skip to navigation menu
HT3P Safety Commander
Enable industrial tablets to provide operation safety
Key Features:

Improves safety and operability
Tablets are more often used as control terminals at manufacturing sites. From the standpoint of ISO/IEC safety standards, when tablets or other operation devices are used near sources of danger from machinery, the tablets need to be equipped with safety devices, such as an enabling switch and an emergency stop switch for immediately shutting down the machinery.

With Safety Commander™, a tablet can be readily equipped with a safety device

With Safety Commander™, tablets now come with safety. Operability is also improved by the ergonomic design. Furthermore, lower equipment cost and higher work efficiency can be achieved.

Adapts to both vertical
and horizontal use
With Safety Command™, a tablet can be used in both vertical and horizontal orientation, thanks to a rotating holder. The emergency stop switch, which must be accessed instantly, can also be positioned for ease of use.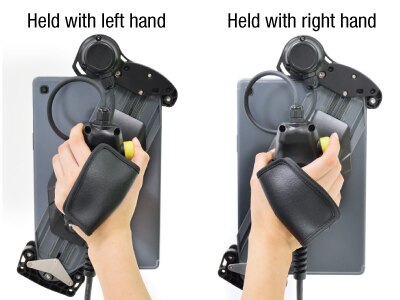 Operability regardless
of handedness
The ergonomic holder design and enabling switch position result in ease of holding and operability.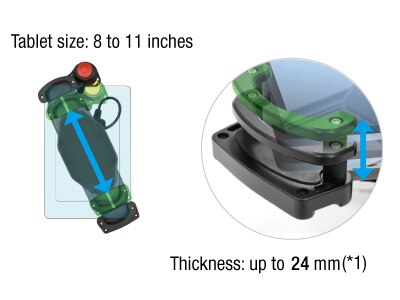 Fit tablets of various sizes
The adjustable docking structure fits screen sizes of 8 to 11 inches. Safety Commander™ can also be attached to rugged tablets with thicknesses of 10 to 24mm (*1) by using a spacer accessory.

*1)Standard thickness: up to 10mm
When accessory "tablet thickness adjustment kit A" is used: up to 18mm
When accessory "tablet thickness adjustment kit B" is used: up to 24mm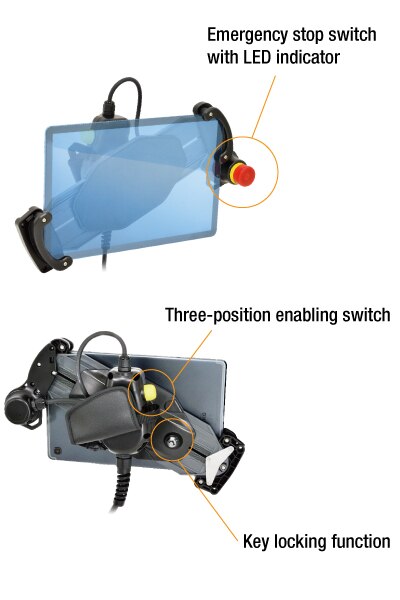 Emergency stop switch with LED indicator,
three-position enabling switch, &
key locking function
Emergency stop switch with LED indicator
Equipped with a safety lock mechanism, safe break action structure, and direct opening action. The LED indicator shows the enabled status of the emergency stop switch.

Three-position enabling switch
Safety during work operations is assured by the ergonomically designed three-position action (OFF➞ ON➞OFF) for avoiding danger.

Key locking function
Locks down the telescope brackets.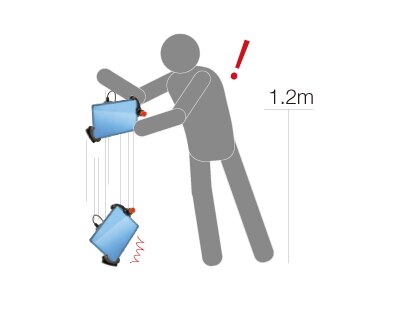 Rugged construction with drop resistance of 1.2 meters
Designed for assurance, the product has passed drop tests assuming accidental drop or impact while carrying. (*1)

*1) Drop resistance has been tested for tablet weights up to 1.1 kilogram. Note: Drop protection of the product or tablet is not guaranteed.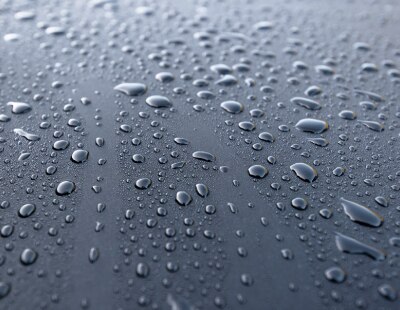 IP54 protection
Usable even in dusty environments or when exposed to splashing or spraying.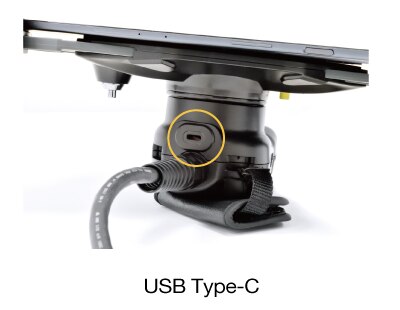 USB charging port
For charging the tablet, with no worries about losing battery power during use.
* 5V DC-1.5A output
Combining Safety Commander™ with a tablet solves common problems on the work floor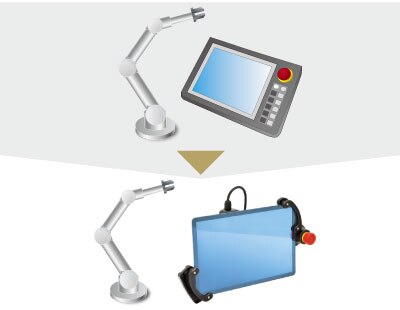 Can the need for dedicated terminal development be eliminated?
BEFORE
Creating dedicated terminal devices in house can be costly, including the development costs. Keeping up with changing needs as features are removed or upgraded is also a burden.

AFTER
Combining Safety Commander™ with a tablet results in a low-cost dedicated control terminal. Hardware development is unnecessary, and discontinuations or upgrades can be handled readily at the software level. Safety and security are also maintained.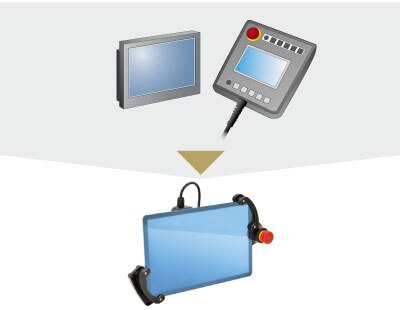 Is there a way to improve touch panel functions?
BEFORE
A dedicated touch panel is used for equipment control. We would like to increase the functions but also want to keep costs down.

AFTER
Combining Safety Commander™ with a tablet enables use for process control, viewing of drawings, and operation log checking. Along with safety assurance, on-site work efficiency is improved. Costs have also been kept low.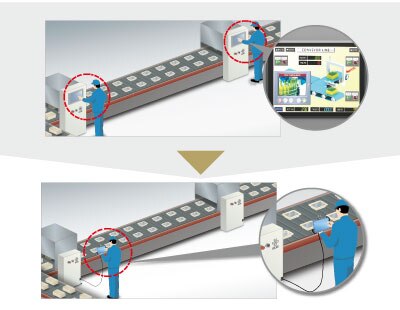 Can the number of different touch panels on panel boards be reduced?
BEFORE
Individual touch panels are installed on multiple panel boards, but this is inefficient as the panels are used infrequently.

AFTER
Using one detachable Safety Commander™ and tablet, operations can be performed in multiple workplaces. It is no longer necessary to install permanent touch panels in each workplace. Safety is also improved, since the safety features are right at hand.
Can an existing tablet be used for equipment control?
BEFORE
We already have a tablet for process control and would like to use it also for controlling equipment, but are concerned about safety.

AFTER
By simply attaching safety features onto the tablet, we were able to use it for equipment control. We also saved on equipment costs.
Application examples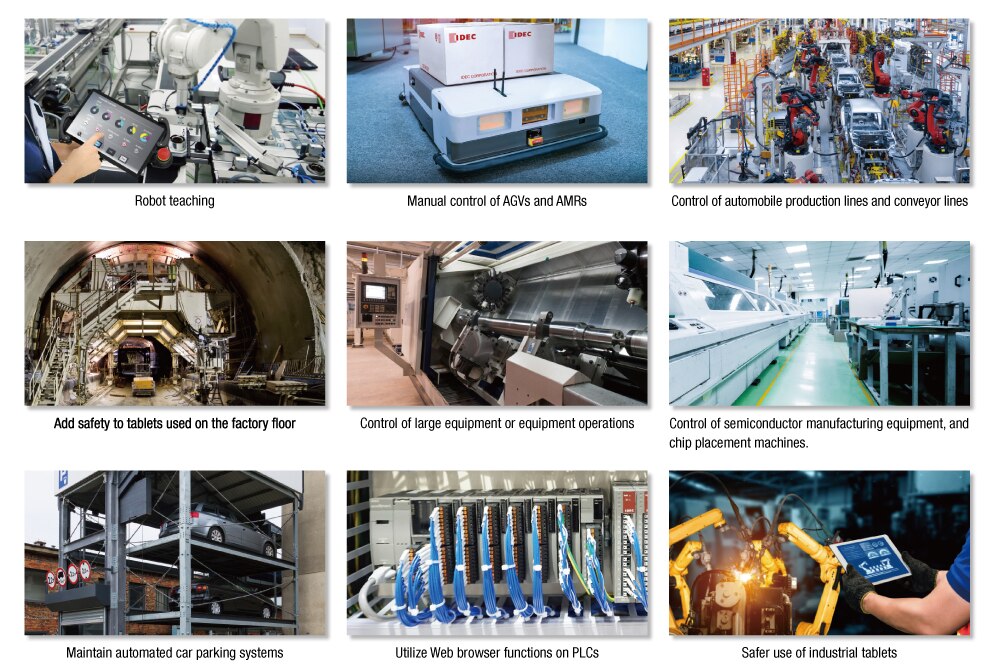 Catalogs & Brochures
Instruction Sheet
Catalogs & Brochures
Instruction Sheet