Skip to content
Skip to navigation menu
Waterproof Switch | EMEA
Solutions for weighing machines – switches that can endure hot water and high-pressure washing
A separate controller was necessary for hot water and high pressure washing
To ensure good hygiene, computerized scales used in food processing production lines need to be thoroughly washed with hot water and detergent when there is a change in the material being weighed or at the end of daily production. Therefore, selection of appropriate switches for the device body was quite challenging.
While normal washing can be handled with conventional waterproof switches, it could not withstand hot water and high-pressure washing. Conventional switches could not be directly installed on the computerized scale body, and a remote controller had to be used for the power switch that was attached to the equipment via a cable.
However, as this method is costly and labor intensive, users have been requesting a better design.

Waterproof switches with a robust structure can be directly installed on equipment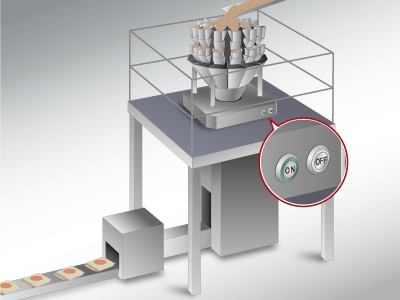 When considering cost and user convenience, directly installing switches on the computerized scale body is a viable option. At IDEC, we have developed switches with a highly protective structure to satisfy the requirements of manufacturers and users of weighing machines.
PBA series metal switches have an IP69K rating for the panel surface to withstand hot water washing, and an IP65 rating so that the inside of the panel is not affected by splashes of water. As these switches are able to withstand hot water and high-pressure cleaning with added detergent, they can be used safely on power switches on the body of computerized scales.


As a result, weighing equipment manufacturers can sell computerized scales that better satisfy customer needs, and users are able to reduce purchasing costs and time.

IDEC is committed to supporting your efficiency and security concerns
The PBA series metal switches are able to withstand hot water, high-pressure, and chemical washing, and allow any contamination on the equipment panels to be cleaned simply by wiping with a cloth. This makes them extremely hygienic. Also, markings such as text can be printed on the panel surface, and it is possible to change the switch shape and illumination color. IDEC can provide design flexibility according to customer requests. Our switches are user-friendly and help improve the usefulness of equipment when hygiene control is important. At IDEC, we support production efficiency and security improvements in a wide range of fields. If you are facing any food processing related issues, consult us.