Skip to content
Skip to navigation menu
Wearable Code Reader | EMEA
Eliminate the risk of accident when performing work with one hand holding a code reader
Frequent multi-tasking work is a cause of production line errors and accidents

When sorting products shipping to different destinations, two codes, of which are cases full of products and a pallet prepared by each shipping destination, are read and the products are loaded to the corresponding pallet taken out from the cases. Although workers can switch out cases while reading, one by one, each code of the cases that have been gathered together and brought in for sorting, cases with a large number of products are heavy, resulting in a constant risk of cases falling.
Handheld code readers are currently used for these operations, workers must put the code reader back into the hip holder after reading a code before firmly grasping a case with two hands to switch it out, such that the procedure requires two separate actions.
However, as this method requires workers to pull out the code reader each time they switch out a case, it is not only inefficient, it can also invite dangerous "multi-tasking" if a worker tries to switch out a case while still holding the code reader.
This multi-tasking work increases the risk of accident due to failure to properly grasp the case and dropping it, and similar causes. In the worst cases, this can result in worker injury, or lost time due to having to repair the damaged product.

There are certainly many plant line supervisors who have the concern, "No matter how many times I caution my workers, it is impossible to completely eliminate such multi-tasking work."

Use of a wearable code reader is a simple way to eliminate the risk of accident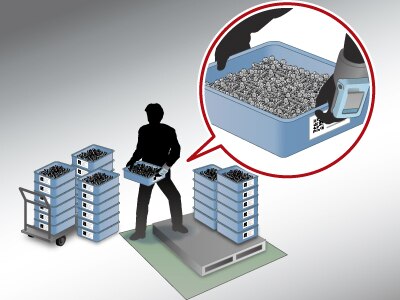 In actuality, there is a simple way to eliminate multi-tasking, a problem not readily resolved even by constantly calling it to the attention of workers. The solution to this is the use of wearable code readers. IDEC recommends introducing our WIT-220-NR Wearable Terminal that can be secured to the wrist or back of the hand as a perfect solution that both optimizes work efficiency and ensures safety. The WIT-220-NR is about the size of a small smartphone and weighs just 94 grams. You can use the attachment to secure the code reader to your wrist or back of your hand and hold it up to the code to read the information. This frees up use of your hands and eliminates the risk of multi-tasking and dropping a box. Moreover, use of our wearable code reader also cuts the labor time lost returning the code reader to the holder in order to make for smoother and safer shipping preparation work.






IDEC's vast storehouse of know-how and ample lineup contributes to optimizing your production line work efficiency and improving safety.

IDEC provides support for improvements in a wide variety of industries with unique case-by-case solutions that include not only the WIT-220-NR Wearable Terminal but also conducting flow management using beacons and similar useful solutions. IDEC's strength lies in this long-term accumulation of know-how and wide-ranging product lineup, contact us if you are interested in optimizing your operations.
In this application the following products were used